Bobby Brown taped an interview with Matt Lauer this morning - for segments on The Today Show that will run Wednesday and Thursday - and made it a priority to defend himself against accusations that his hard-partying lifestyle played a role in the tragic death of Whitney Houston.
"I didn't get high before I met Whitney," Brown says, seemingly blaming HER for HIS problems, although clarifying that he did smoke "weed" and drink prior to their relationship.
But Brown emphasized that he wasn't "the one that got Whitney on drugs at all" and that he feels "terrible" folks think otherwise.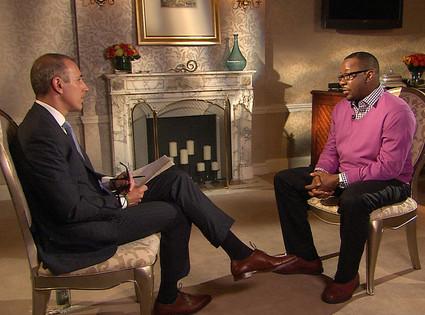 Because, really people, the important thing here is how Bobby Brown feels.
Houston and Brown were married from 1992 to 2007 and are the parents of a daughter, Bobbi Kristina. The singer told Lauer that their one year of filming Being Bobby Brown had a profound affect on their recreational drug use.
"The reality show gave us a wakeup," he says. "We [were] able to see that our drug use had affected our relationship, had affected the love that we felt for each other."
When did Bobby last see Whitney? About a week prior to her passing. He said she "looked really well" at the time.
Brown - who pleaded out a DUI arrest just this week in order to avoid jail time - said he was shocked and "hurt" when he learned Houston died with cocaine in her system. At the end of the day...
"I love that woman with everything that I am. And I believe she loved me the same way. We wouldn't have been able to make the most beautiful girl in the world - without love. And that's the truth."
Source: http://www.thehollywoodgossip.com/2012/04/bobby-brown-on-whitney-houston-death-not-my-fault/
Christina Milian Samantha Mumba Roselyn Sanchez Heidi Klum Coco Lee